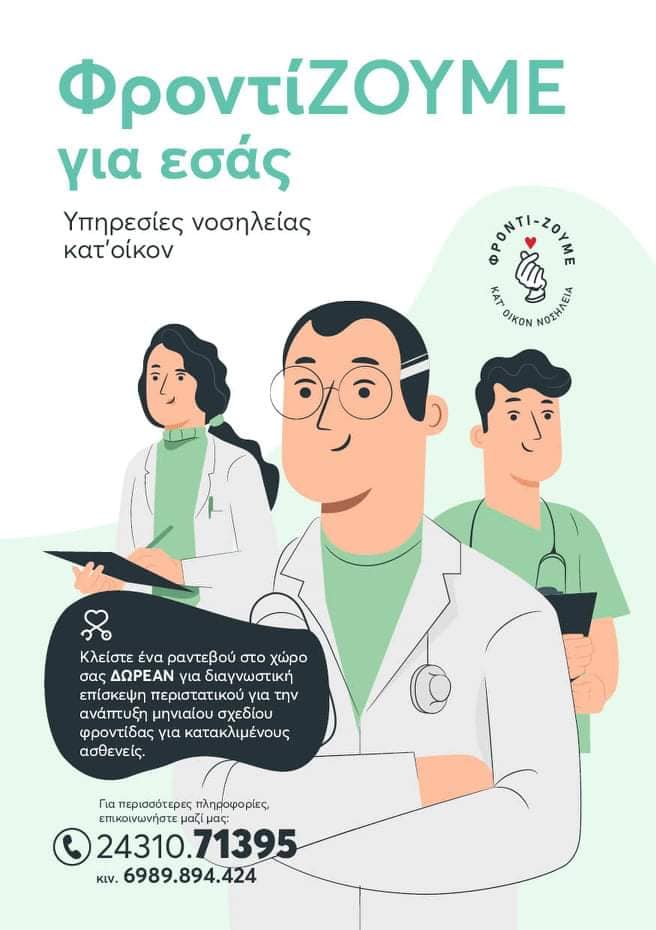 ΦροντίΖΟΥΜΕ
Chatzifotiadis Georgios - Home Care - Nurses - Trikala

For those of you who want treatment in the comfort of your own home, the specialized team of We take care of provides you with specialized nursing support services.
Our experienced nurses are ready to meet your needs with respect and responsibility.
Prevention, promotion and rehabilitation are the main goal in resident care.

What services do we offer:
High quality nursing services by experienced nurses in the prefecture of Trikala for those of you who need resident care according to the instructions of your treating physician.
Who is the treatment of residents addressed to:
Patients after surgery
Patients after stroke
Elderly patients
Patients with chronic diseases
Cancer patients
Α.Μ.Ε.Α
Patients lying down
Patients in need of personal hygiene
Why choose Home Care:

The program that improves the quality of life of patients
With the care of residents, we take care of the nursing care in the homes around your home with consistency and discretion
• reduce unnecessary travel
• you are protected against nosocomial infections (2 out of 10 patients admitted to hospital are infected with nosocomial infections)
• continuous monitoring and information of your doctor is ensured
• facilitates the recovery process and improves the patient's mood

The CARE team

The treatment in your area - We take care - consists of specialized nurses and provides hospital-level services at home. The nursing care program is applied in the patient's area and includes exactly what is done in a hospital. No hassle with clinical evaluation by your treating physician, for as long as needed.
Make an appointment at your place for FREE for a case diagnostic visit to develop a monthly care plan for bedridden patients
The service packages are personalized and configured according to the needs of the patient
Call us to find out about all our services
10% discount for cancer patients and kidney patients
In children with cancer all our services are free.